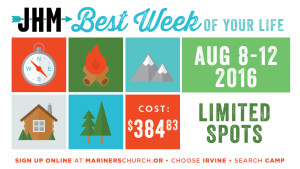 JHM Summer Camp- IMPORTANT INFO!
Parents of JHM Campers! 
This is the email you've been waiting for! We are so excited that your student is coming to camp with us!
SUMMER CAMP CHECK IN DAY IS MONDAY AUGUST 8th at 12PM.
Location:      Mariners Church Irvine – Community Center Building
Forest Home Medical Contact Form: >>>SIGN MEDICAL FORM NOW<<<
Be sure to fill that out before Check-In Day. If your student does NOT have this Forest Home registration form filled out, they will NOT be able to attend camp. If you don't have an account already with Forest Home, please create a new user account. After you've filled out the contact information portion, you will see a health questionnaire icon. Please include any Medications and dosages. Be sure it says "Completed" when you are done.
JHM SUMMER CAMP PACKING LIST (PLEASE PUT YOUR NAME ON ALL OF YOUR BELONGINGS.)
Please DO Bring:
Sleeping bag & Pillow
2 Towels – beach & bath
Body Wash & Shampoo
Hairbrush
Toiletries
Flashlight
Casual clothing for 5 days (clothes you don't mind getting dirty)
Tennis shoes & sandals
A light jacket/Sweatshirt
A modest one-piece swimsuit (boys included!)
Hardcover Bible and pen
Hat, Waterbottle, Sunscreen & Chapstick
Challenge wear (TEAM COLORS: BOYS = BLUE / GIRLS = RED)
Snacks (No Peanut Products)
$40 Snack Allowance
Any medications to be checked in and labeled in a plastic bag
Please DO NOT BRING (Use your Parental Judgment):
ELECTRONIC DEVICES (INCLUDING CELL PHONES)
Axe Body Spray/Fabreeze/Spray Cans
Pocket Knives
Shaving Cream
Fireworks
Lighters
Ducktape
Zip Ties
Table Volunteers:We are in need of some awesome parents to help at registration tables! If you are available to be there at 10:30am until registration is complete and our students are off, we would be very grateful and your student will receive a FREE Camp T-Shirt! Please click the link below: >>> Volunteer SIGN UP<<<
Expected arrival back to Mariners Irvine Student Center on Friday, August 12th is 3:00pm. We will be updating arrival times on Social Media (@juniorhighministry) and Text Updates (Text "juniorhighparent" to 99-000 to sign up for updates)
Emergency Contacts: We will be working hard to focus on making camp memorable. Therefore please contact us in Emergency Situations ONLY.

Kierlyn Densham (JHM Staff) – (949) 230-5363
Ashlie Claunch (JHM Staff) – (660) 833-5666
Paula Buchan (Forest Home Nurse) – (714) 469-4634
Thank you Parents! We are thrilled to be taking your student to camp! Please let us know if you have any more questions and we will see you on Check-in Day!
-JHM TEAM
The following two tabs change content below.
Hi my name is Justin and this is my blog. I love Jr. High ministry and leadership so I talk about that a lot. I work at the church of my dreams getting to oversee all of Jr. High with a great team who are the best in the business. I'm married to the woman of my dreams, Brittany and we live in Southern California.
Latest posts by Justin Herman (see all)